Mossy Rock
Free Union, VA
Vernacular geometries and contemporary openness. This house is designed around the simple concept of placing main living spaces and private bedrooms in separate volumes, and linking the two wings with a well-organized kitchen. In doing so, the southern living space becomes a pavilion that enjoys expansive glass openings and a generous porch. Maintaining a geometric self-confidence, this front pavilion possesses the simplicity of a barn, while its large,  shadowy openings suggest shelter from the elements and refuge within.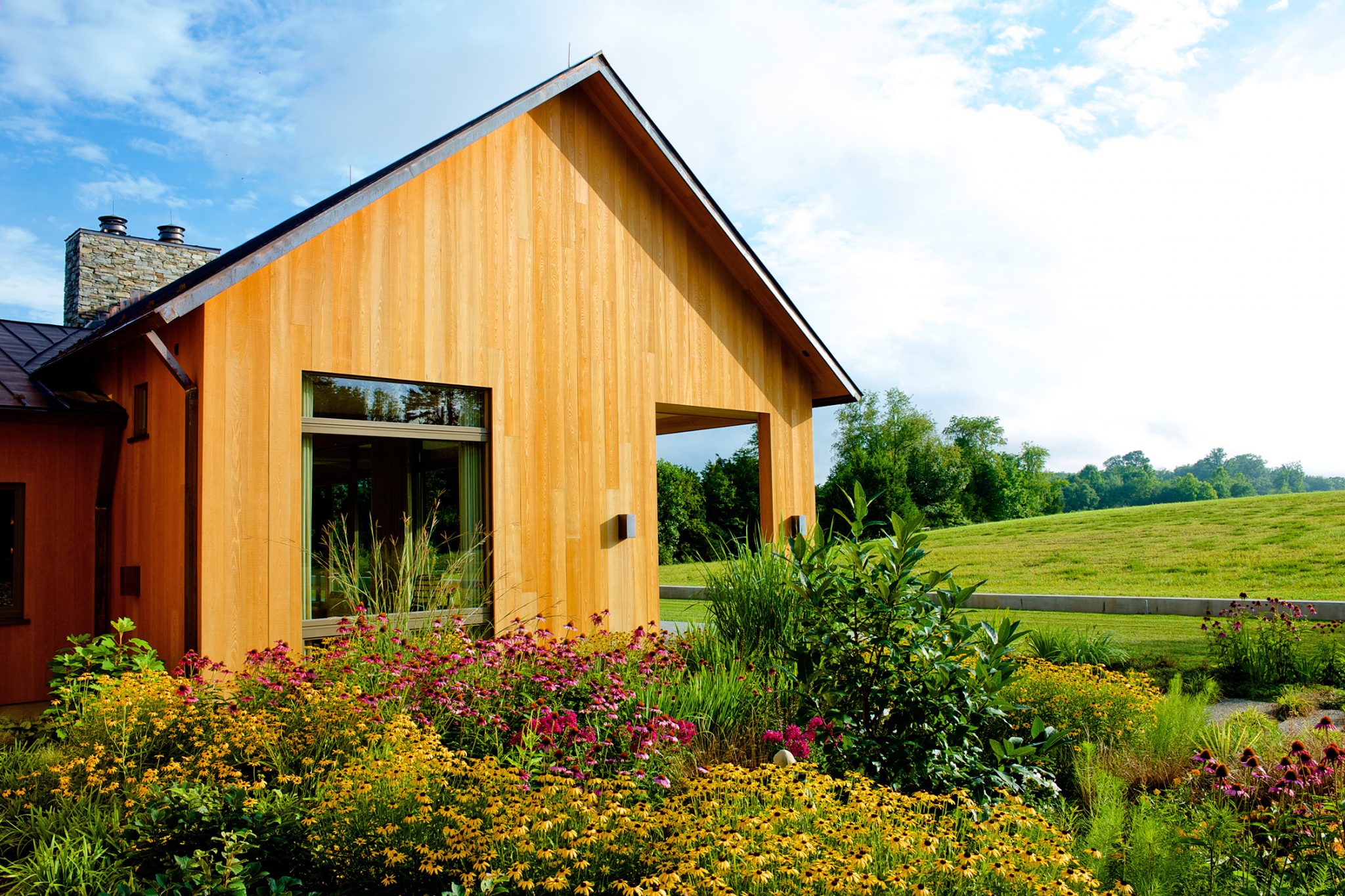 The house is tucked at the end of a long field, protected by a slight rise in the land to the west. The field is maintained by the adjacent farm, while native wildflower perennials and small areas of turf surround the domestic spaces.
An early concept sketch shows the front pavilion, with bedrooms and service spaces behind.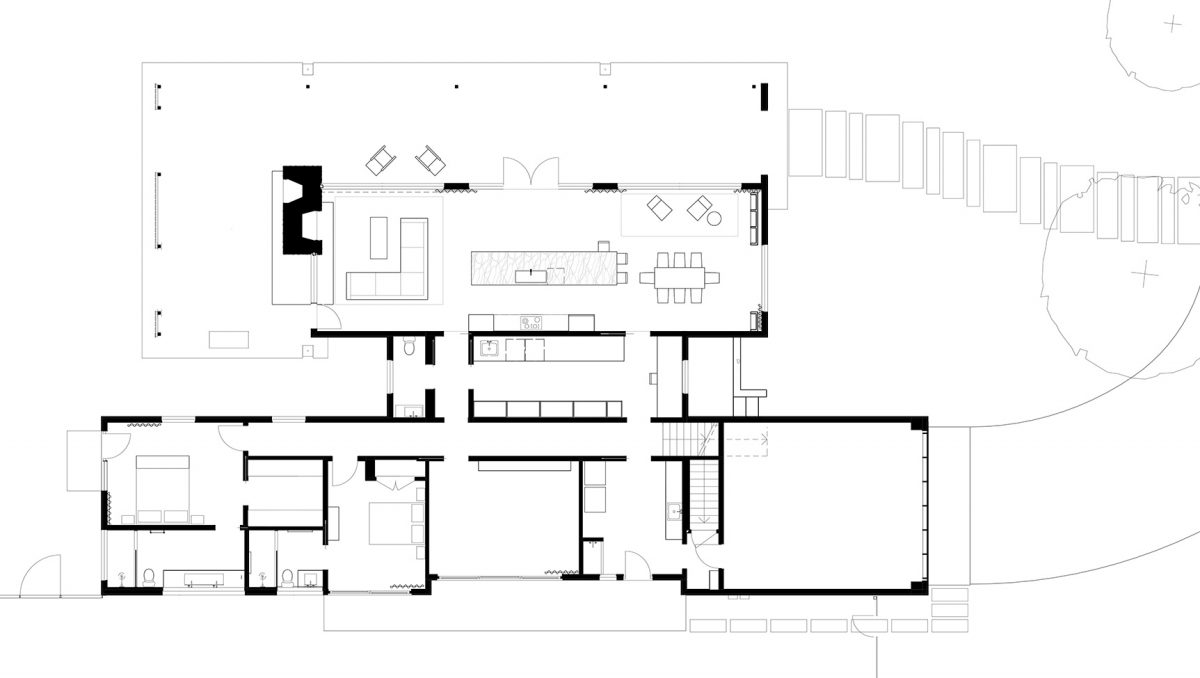 By the numbers:
Three bedrooms, three and a half baths, a fitness room, and west and south porches. 2,860 square feet on the ground floor, 460 square feet for an upper bedroom and bath, 1,160 square feet for the porch.
Sustainability and efficiency were considered with each element of design. Roofs are insulated to R-60, energy-efficient lighting and mechanical plants were  specified, and a grid-connected 10KW solar array is hidden below the south retaining wall.
Energy bills for this house average just $35 per month.
The interior is fitted with reclaimed elm flooring and vertical grain white oak for windows, bookcases, cabinets, and trim. The same cypress used on the exterior comes inside on the back wall and ceiling. Belgian linen drapes pocket behind the bookcases, and windows are glazed with energy-efficient, triple-pane, R-11 Low-E glass.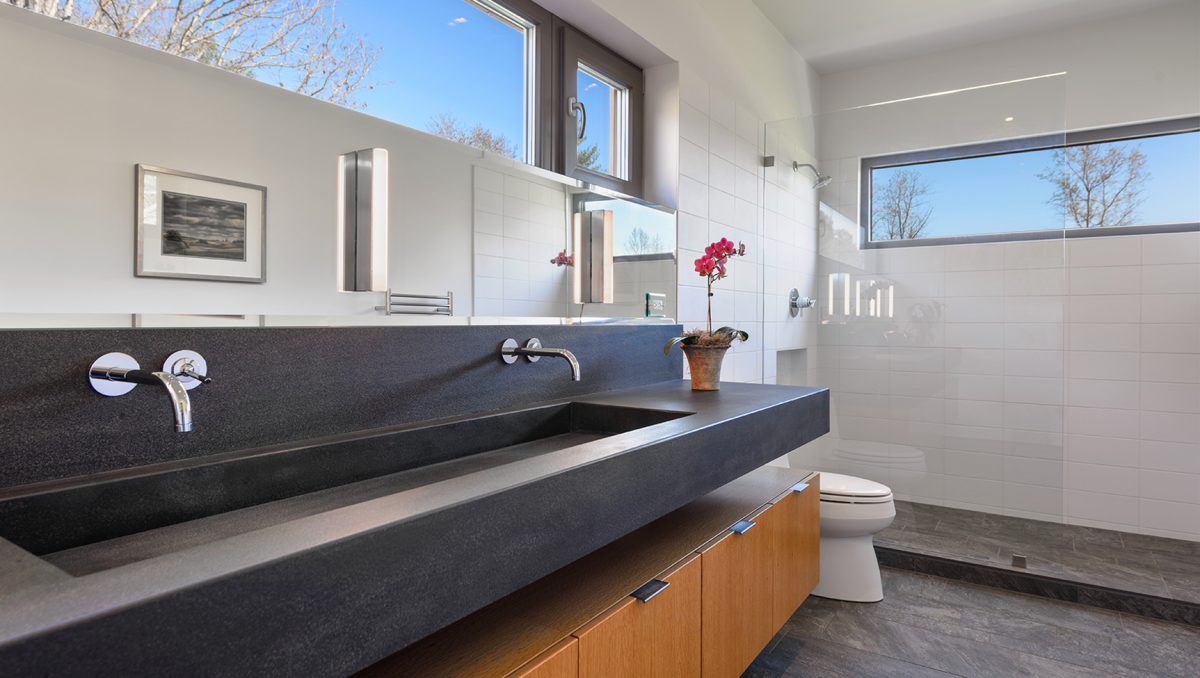 High windows in the bathrooms provide a feeling of privacy without the need for window treatments or shades. The black granite sink floats over white oak storage.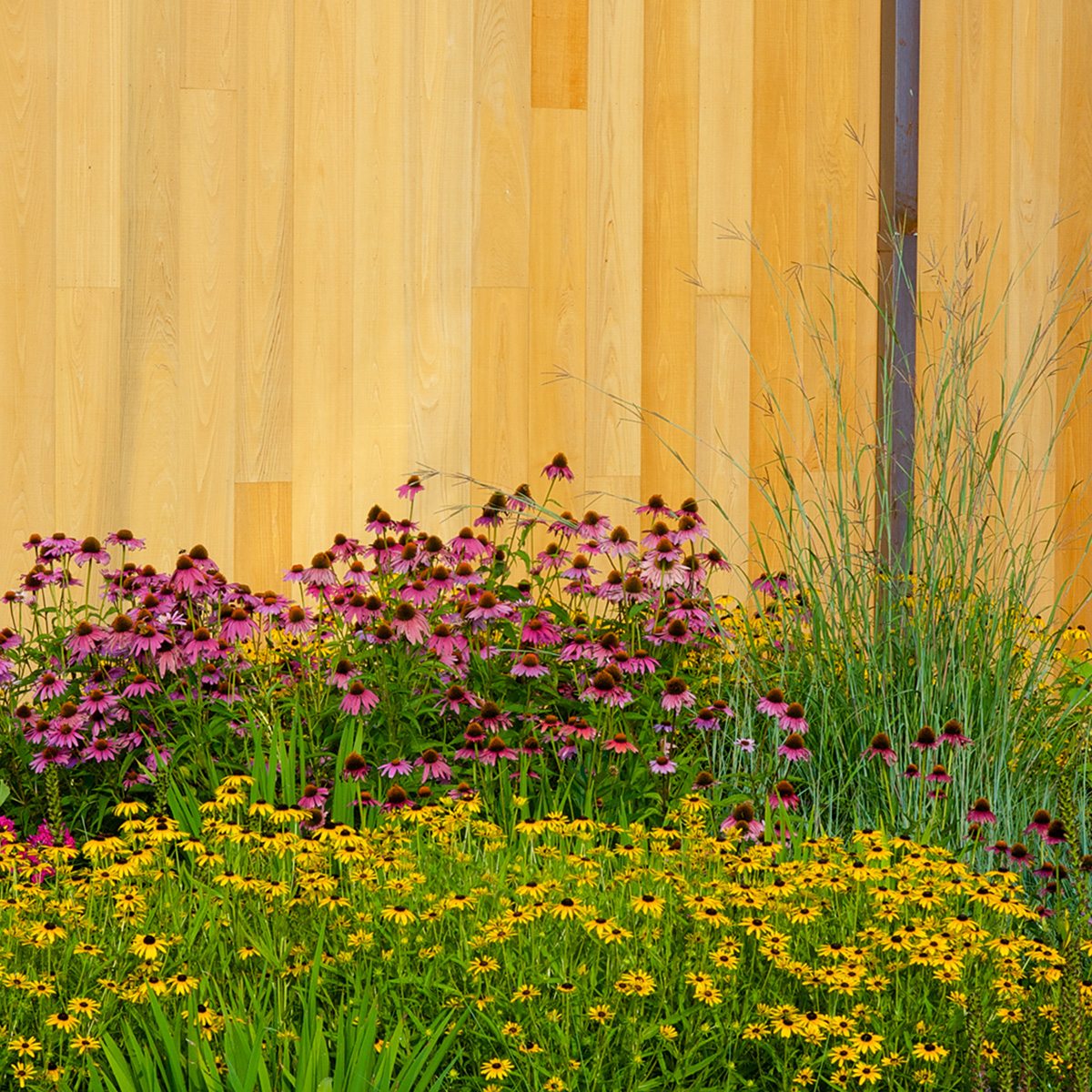 Cypress siding and a copper downspout act as a backdrop for the wildflower garden.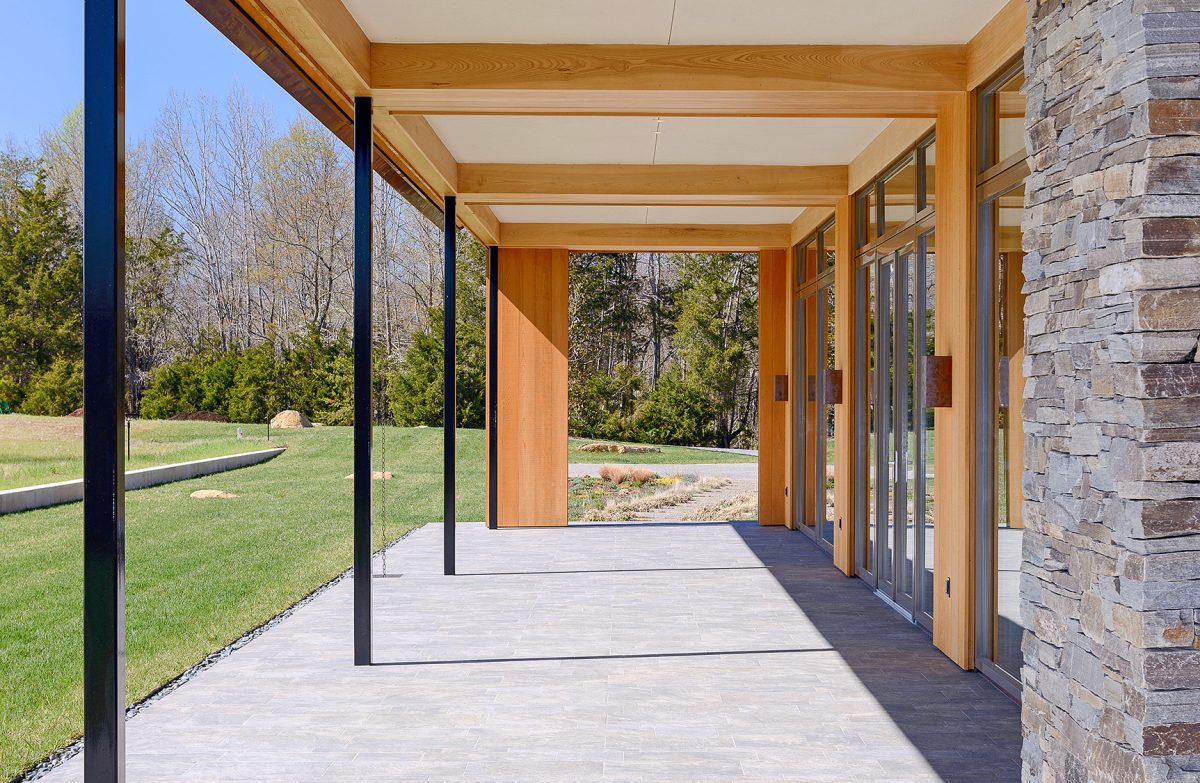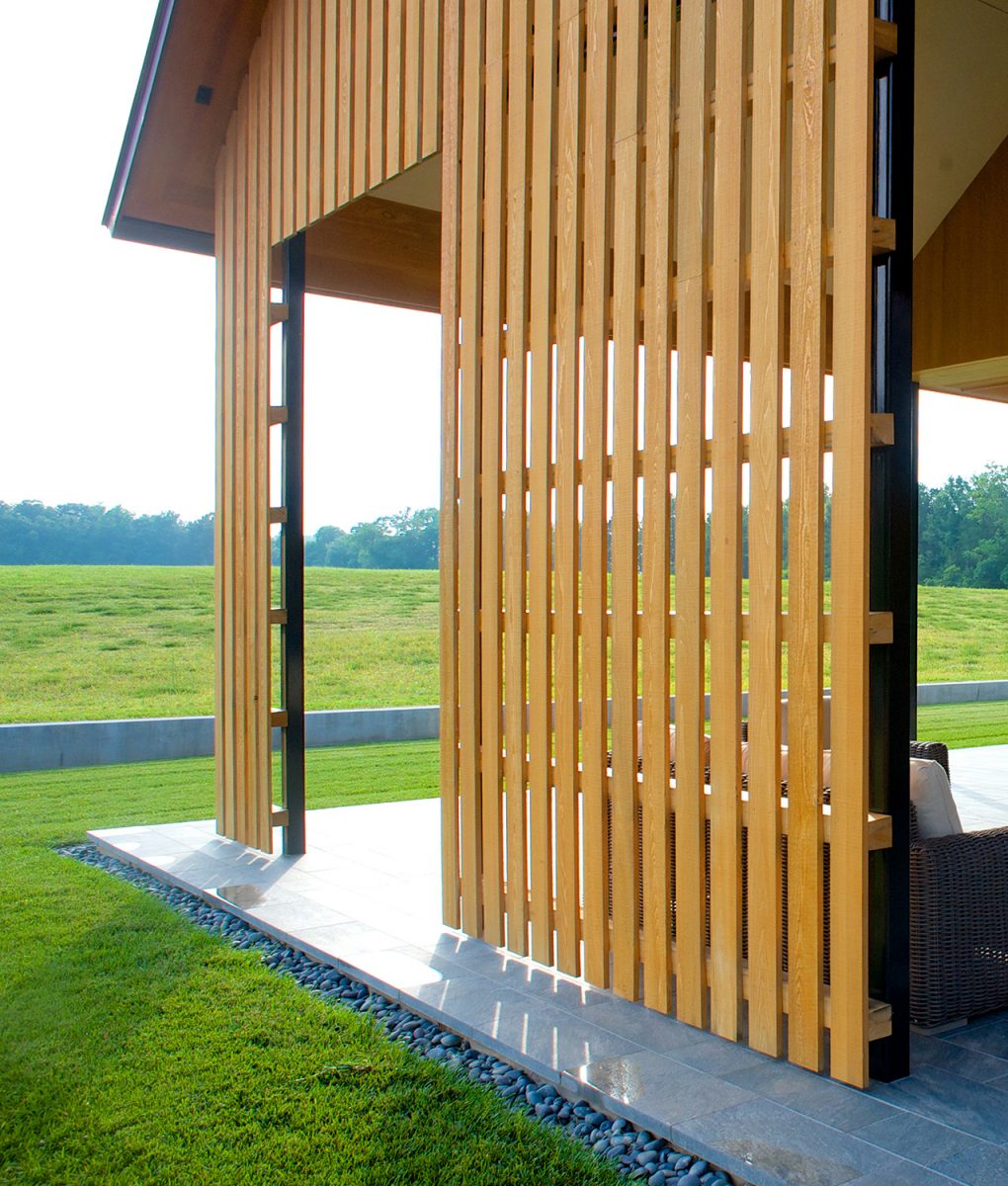 The south porch is shaded and screened with a cypress lattice wall. The western aspect is nothing but sky and field, as the house is sited to capitalize on the expansive, beautiful, and simple meeting of sky and grass. The scene captures  midwestern immensity in the rolling Virginia topography.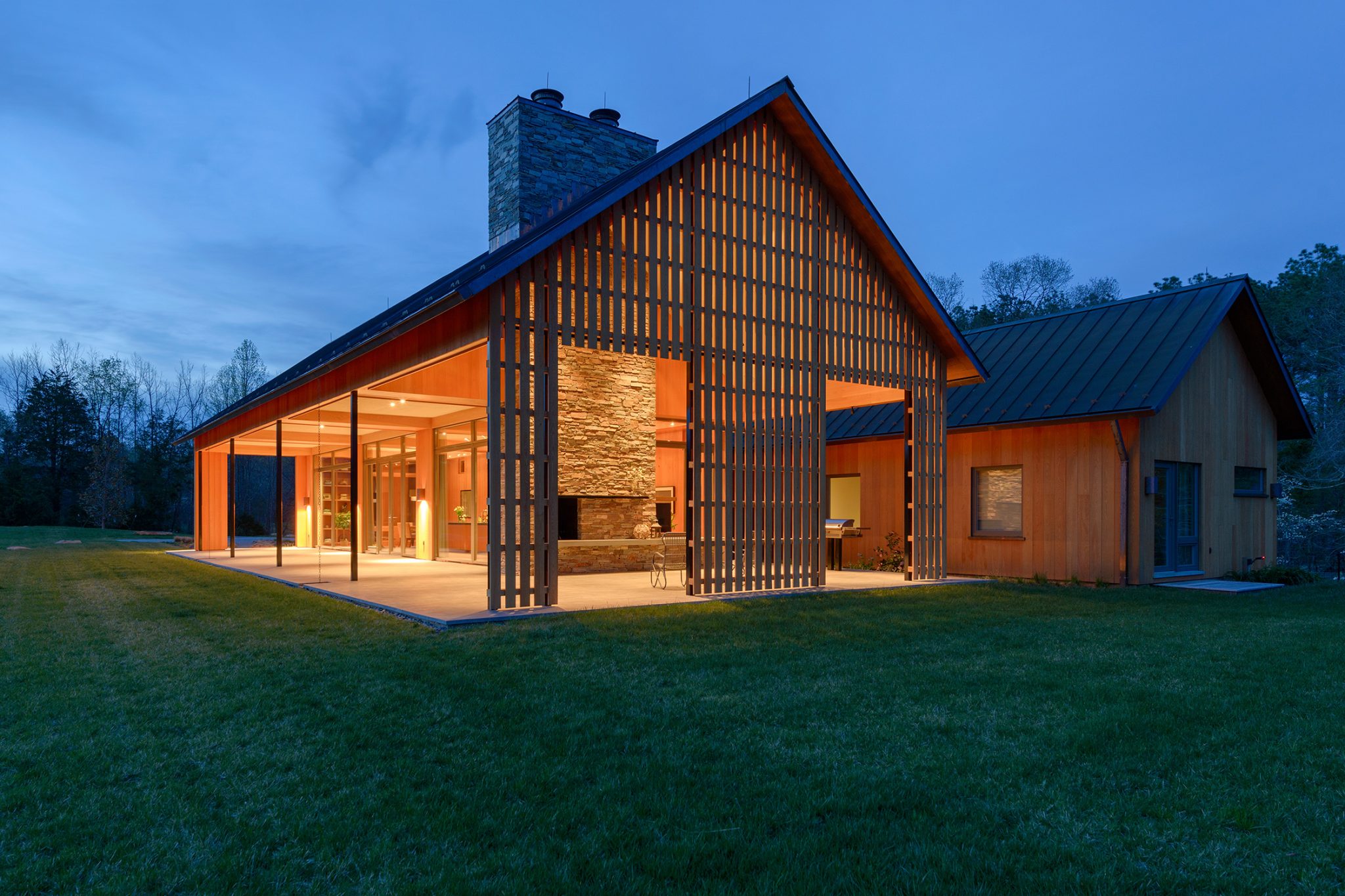 Project Type: Residential
Size: 2,850 square feet (ground level), 1,200 square feet (porches)
Collaborators: Ralph Dammann (GC), John Semmelhack (Energy), Alterra (Solar PV array)